South Songshan Lake Waterfront Area is an important part of Songshan Lake Science City. Currently, Songshan Lake is trying to improve the facilities and living standards of residents in the area, which will contribute to the improvement of the overall quality of Dongguan. On January 12, the Promotion Department of Dongguan Municipal Party Committee and the Municipal Natural Resources Bureau held an event to showcase the achievements Dongguan has made as it upgrades itself. Guangdong TV, Nanfang Daily and many other mainstream media outlets came to the South Waterfront Area to report the changes this area has undergone.
Wankeli Plaza in the Waterfront Area
"Just a few months after I moved to Songshan Lake, the business district downstairs was opened. There are food course and stores, as well as a large lawn for children to play." On the afternoon of January 12, Ms. Xu and her child had a great time in theWankeli Plaza in the Waterfront Area. The business district has now become a good place for her and her family to relax and have fun.
The building of Wankeli Plaza in the Waterfront Areais part of Songshan Lake's three-year plan to improve urban quality. Since 2017, Songshan Lake has undertaken a number of demonstration projects and other high-quality projects as it builds a high quality South Waterfront Area. All these have contributed to the improvement of the overall quality of Songshan Lake.
Now,the South Waterfront Area ofSongshan Lake has started the construction of green space, commercial facilities, public facilities as well as traffic facilities as planned. A number of engineering projects have been completed one after another, and the people-centered infrastructures have been improved constantly.
The newly built Taoyuan Park and Tailuge Park have enriched the daily lives of residents. The building of Songshan Lake No. 2 Primary School, Songshan Lake Experimental Primary School and Guanmei School has increased high-quality educational resources. Supporting road structures have improved traffic efficiency. A number of reservoir improvement projects have improved the flood control capacity of Songshan Lake drainage canal and improved regional water ecology.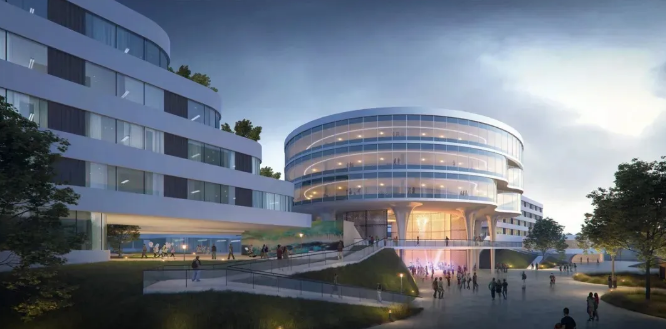 The Songshan Lake Future School
In addition, a number of cultural, medical and safety facilities such as Songshan Lake Future School, Southern Public Service Center, Binhu Police Station, and fire station are under construction.
"When I worked in Songshan Lake in 2011, it was difficult to find a place to have fun, but now I still chose to come back and opened the second branch of my company here," said Mr. Kwong, the principal of 18T Indoor Skateboarding Club. The rapid development, gradual improvement of urban functions, the gathering of high-quality talents, and an open cultural atmosphere all make him more confident to expand the market here.
The Songshan Lake Science City
In July 2020, Songshan Lake Science City was included in the first start-up area of the Comprehensive National Science Center of the Greater Bay Area, becoming the first area in Dongguan to be empowered by the national science and technology strategy. As an important part of the Science City, the South Waterfront Area of Songshan Lake will be built into a central innovation zone of Songshan Lake Science City in the future, which will play an important role in leading Songshan Lake to go global.
At present, a group of world-class scientific research and innovation institutions and enterprises have settled in the area, including China Spallation Neutron Source, Songshan Lake Material Laboratory, Huawei Terminal Headquarters, China International Marine Containers Group, China-Israel International Technology Cooperation Industrial Park and so on, leading the area towards high-end development.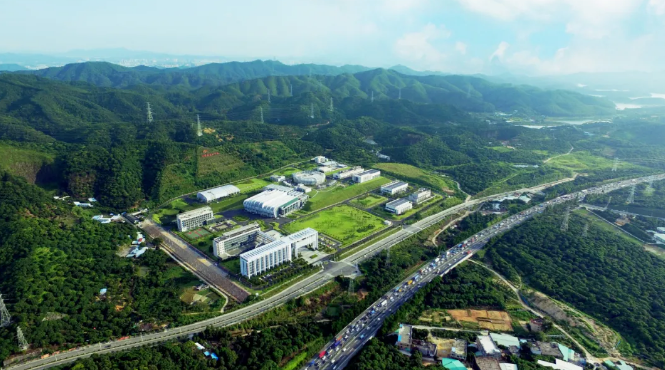 A Number of Innovation Institutions Have Gathered in Songshan Lake
In the future, the area will also take on important missions such as accommodating the industrial resources brought by scientific apparatus and reserving room for the future development of leading companies.
One official with the Songshan Lake Natural Resources Bureau said that in the future, Songshan Lake will focus on improving its quality, closely serving the needs of the central innovation zone and relevant groups, and continuously promoting scientific and technological exchanges and improving urban functions.
Songshan Lake will speed up the construction of professional service facilities such as the International Science Conference Center, Science Museum, high-end conference hotels, international schools and other relevant venues. The building of public cultural and sports facilities such as concert halls, indoor stadiums as well as road networks is also written in the blueprint.
swipe on the phone to open the current page